Vehalla-online ! its back again its was online from 2015 to 2017 now we back it in 2018 ! its pvp system no alchemy in the game max plus you can buy it from npc its system coins high drop coins.

how to get +25 items 100% status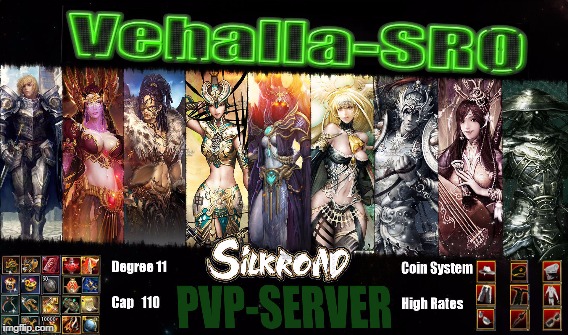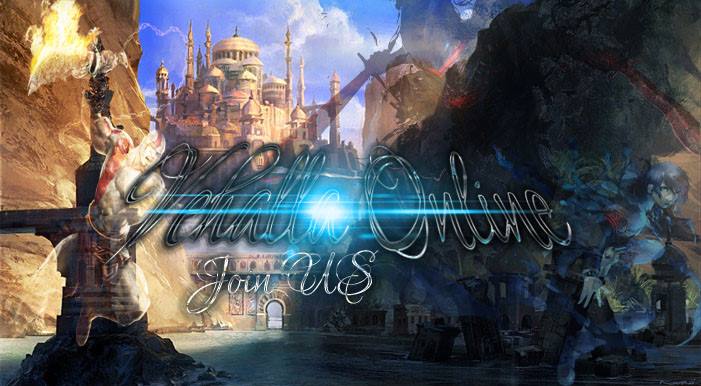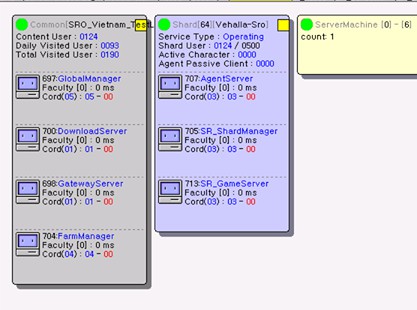 We are really excited to be able to finally announce the launch of our new project, Vehalla-Sro. It took a lot of time and
effort, but we eventually managed to create a whole new experience for this great community – we could only achieve this
with your help and are really grateful for your suggestions and wishes. We tried to re-create the game for you and
optimized every option just as you all wished. We hope that you will experience just the game-play you wished for and are
really enthusiastic about this launch and all of your feedback!
Our goal is clearly defined and really simple: We want to found a great community of active, friendly and eventually good
and really strong players. We want to make the founding of such a community possible by[LIST][*]Supporting all of you as good as we can[*]Organizing and holding events on a regular basis[*]Providing a forum so you can exchange your opinions[*]Weekly updates (New items, patches…)[*]Max. degree 11
Taking all this to account, we believe that we can offer you one of the best (if not the best), community-based experiences.

Hello there is Vehalla Online PVP Server D11
GRAND OPEN 18/06/2018 At : 8:00PM GMT+2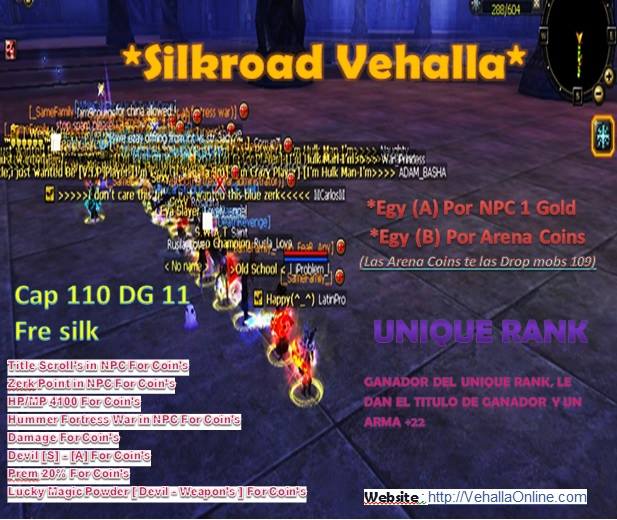 ▬▬▬▬▬▬▬▬▬▬▬▬▬▬▬▬▬▬▬▬▬▬▬▬▬▬▬

★
Cap
:110 ✔
★
Degre
:11 ✔
★
Skill
:110 ✔
Race
: EU&CH ☑
Exp Party
: 25x ☑
Item Drop
: 4x ☑
Gold drop
: 10x: ☑
CTF
: Yes ☑
Battle Arena
: Yes ☑
Drop Arena Coin Mobs Lvl 109 ☑
DDoS Protected
: Yes ☑
♦
Free 1M Silk
: Yes ☑
▬▬▬▬▬▬▬▬▬▬▬▬▬▬▬▬▬▬▬▬▬▬▬▬▬▬

★Characteristics:✔
►Drop rate x1 ✔
►Alchemy:
disable
►IP Limit:3 ✔
►PLUS Limit:23 ✔
►Gold drop:x10 ✔
▬▬▬▬▬▬▬▬▬▬▬▬▬▬▬▬▬▬▬▬▬▬▬▬▬▬

#Automatic Event`s
1-Automatic Trivia Event.
2-Automatic Kill The GM Event.
3-Automatic Hide & Seek Event.
4-Automatic Lucky Party Number Event.
5-Automatic Uniques Event.
6-Automatic Last Man Standing Event.
▬▬▬▬▬▬▬▬▬▬▬▬▬▬▬▬▬▬▬▬▬▬▬▬▬▬

#Wanted System ' Hero Mode '
-Another awesome feature & idea.
We have made a Hero mode that will allow you to
receive some certain buffs for killing enemy players
from an opponent job union. The starts you will get
are % physical and magical damage, % Parry and
Attack rate and % lucky increase. Also you will get
str & int based on the hero mode level.
There are 5 kind of buffs:
15 Kills in row = 1%
30 Kills in row = 2%
50 Kills in row = 3%
Cheating ?
- You wont get any kills count from the same person more than 3 times.
- You can only earn points by killing players at Donwhang east
- You have to kill players 105+ in order to get points
- If you die while jobbing your hero mode skill will be taken away from you.
▬▬▬▬▬▬▬▬▬▬▬▬▬▬▬▬▬▬▬▬▬▬▬▬▬▬

• Coin system.
• Original Avatars and New Avatars.
• New Thief Avatar.
• Fellow pets.
• Custom skill effects.
• unique summon scrolls.
• Arabia town
• New Special Title names.
• Stones at npc.
• Battle arena.
• Old School Trading.
• Potions and Pills Stackable to 500.
• Stones Stackable to 50.
• Enable Advanced Elixirs +2
• New Zone PVP.
• New Zone For uniques Event.
• New Area.
• Petra Fully Working.
• New Teleports.
• Premium stats 20%.
• Job Temple.
• Auto Pvp Event.
• Added New Speed Scrolls.

we add a weekly events like [ weekly uniques for STR-INT / weekly PVP for STR-INT / weekly Unique Ranking ] and the reward of this events is weapon +27 100%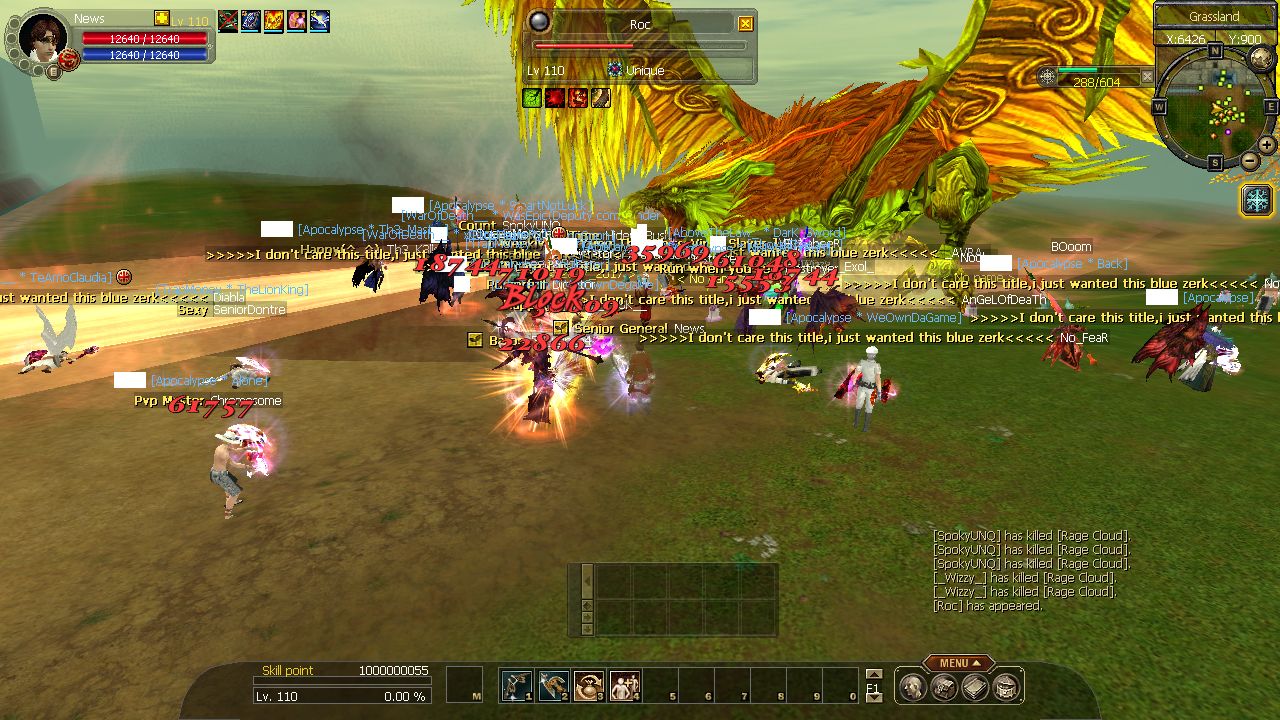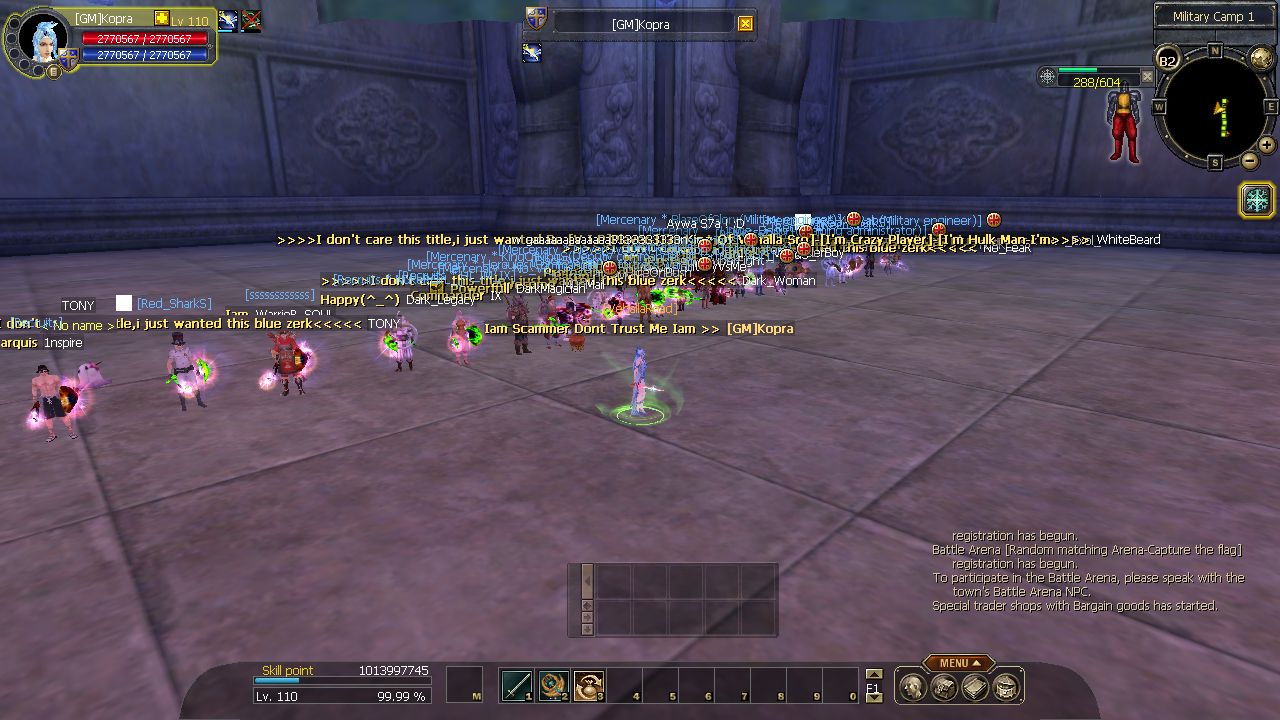 Fortress War in
Vehalla Online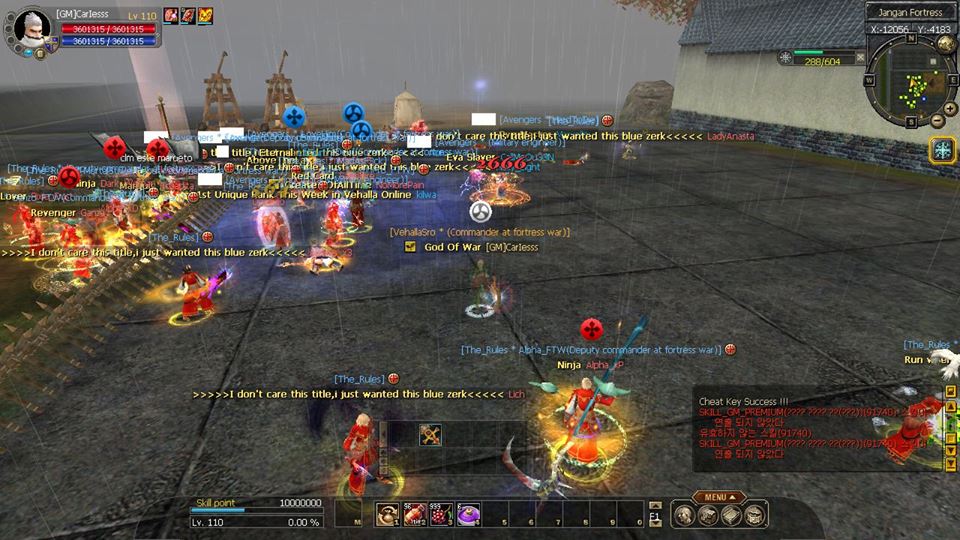 Start Items in
Vehalla Online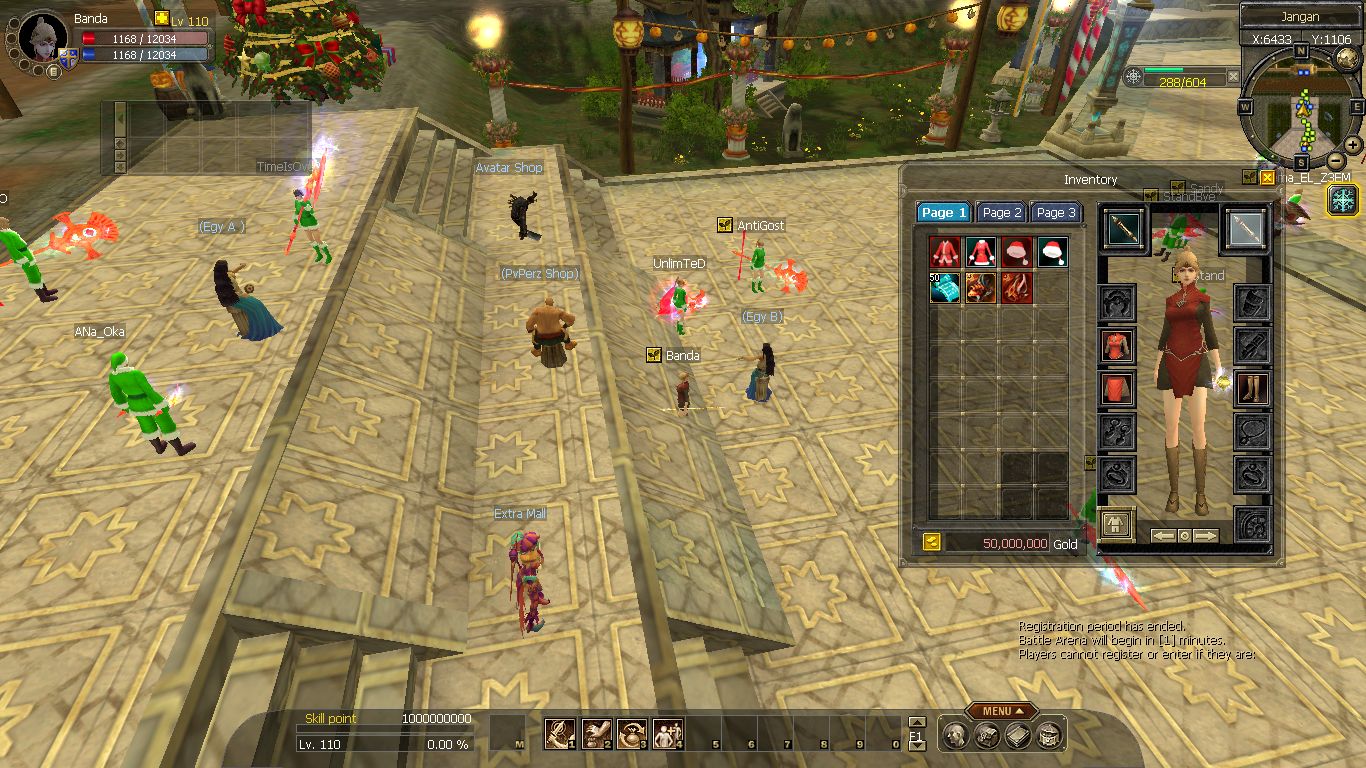 New Avatars For [ Normal Coins ] To Get Normal Coins From CTF - Arena Flag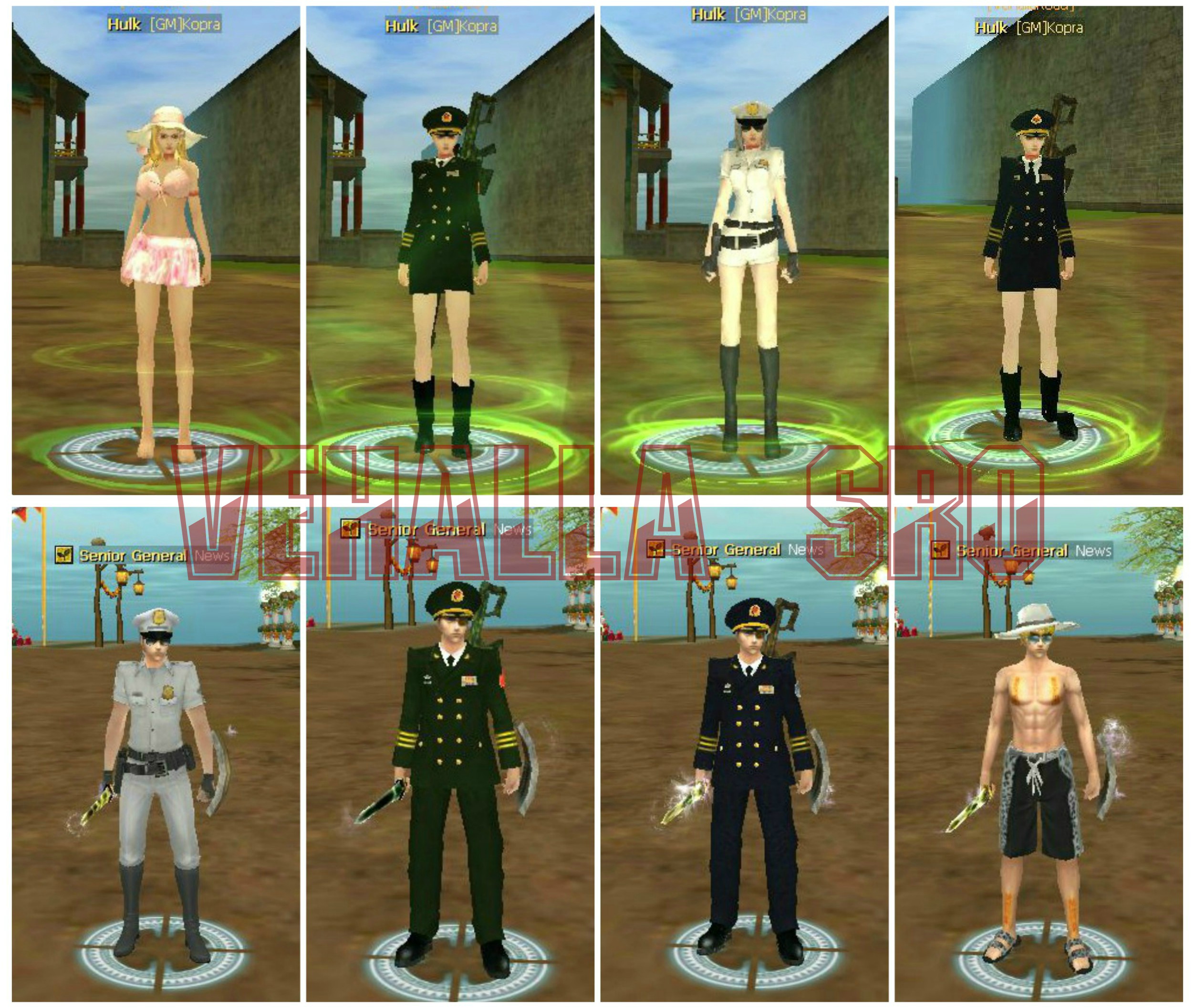 To Get Normal Coins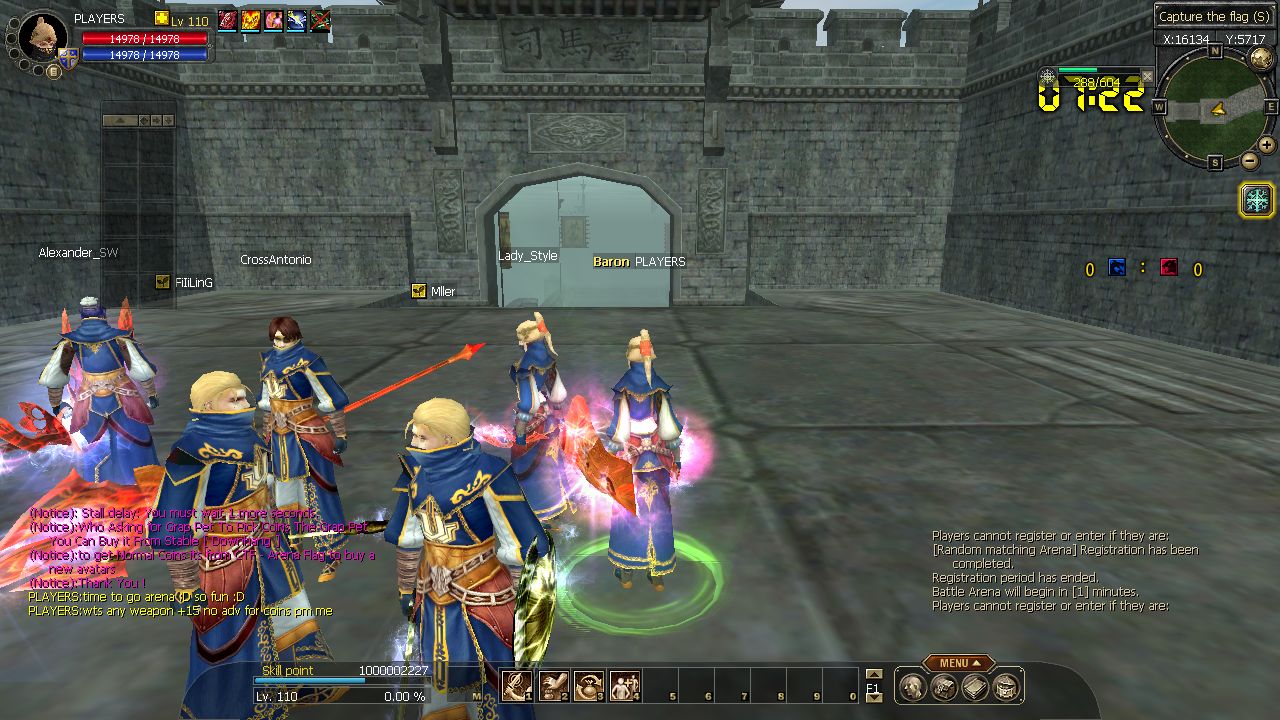 Egy [A] For 1 gold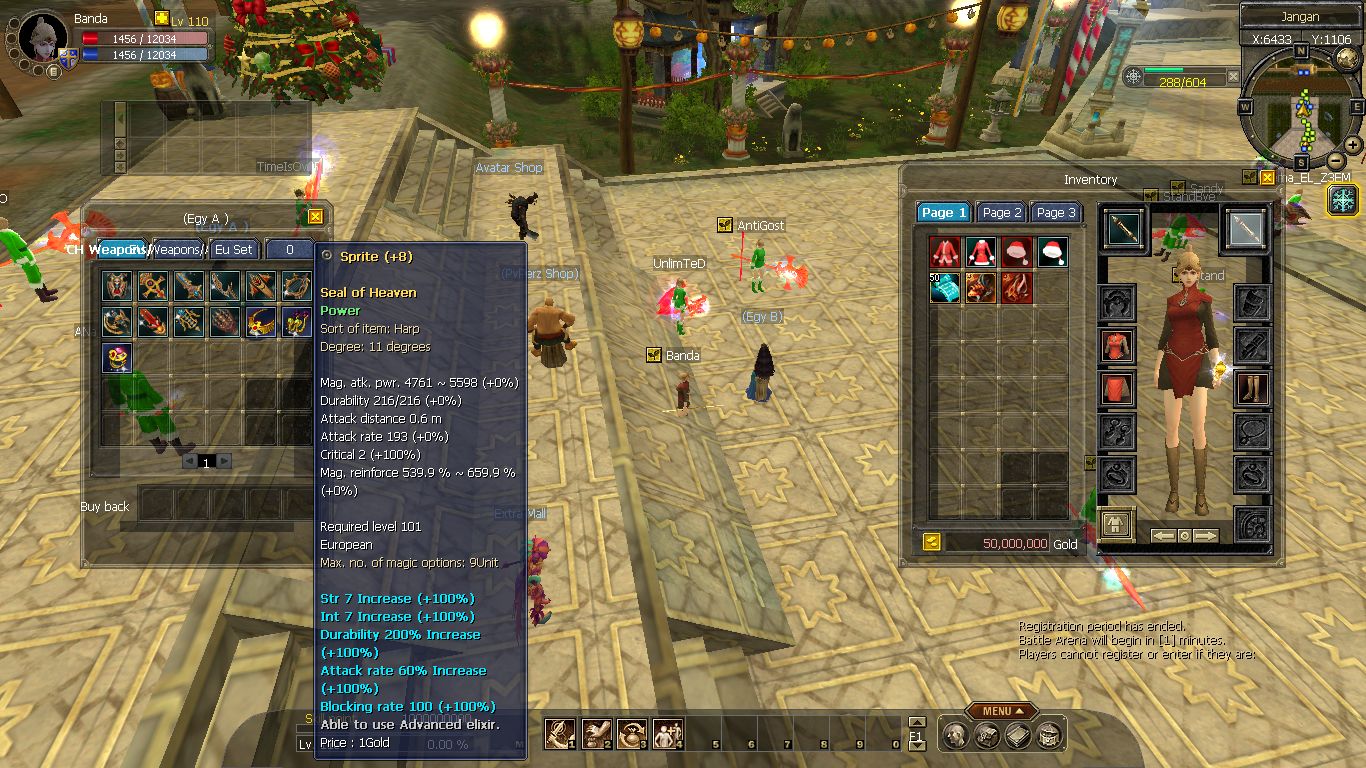 Egy [B]+23 no adv For Arena coins you buy it +8 after teleport get it +23 no adv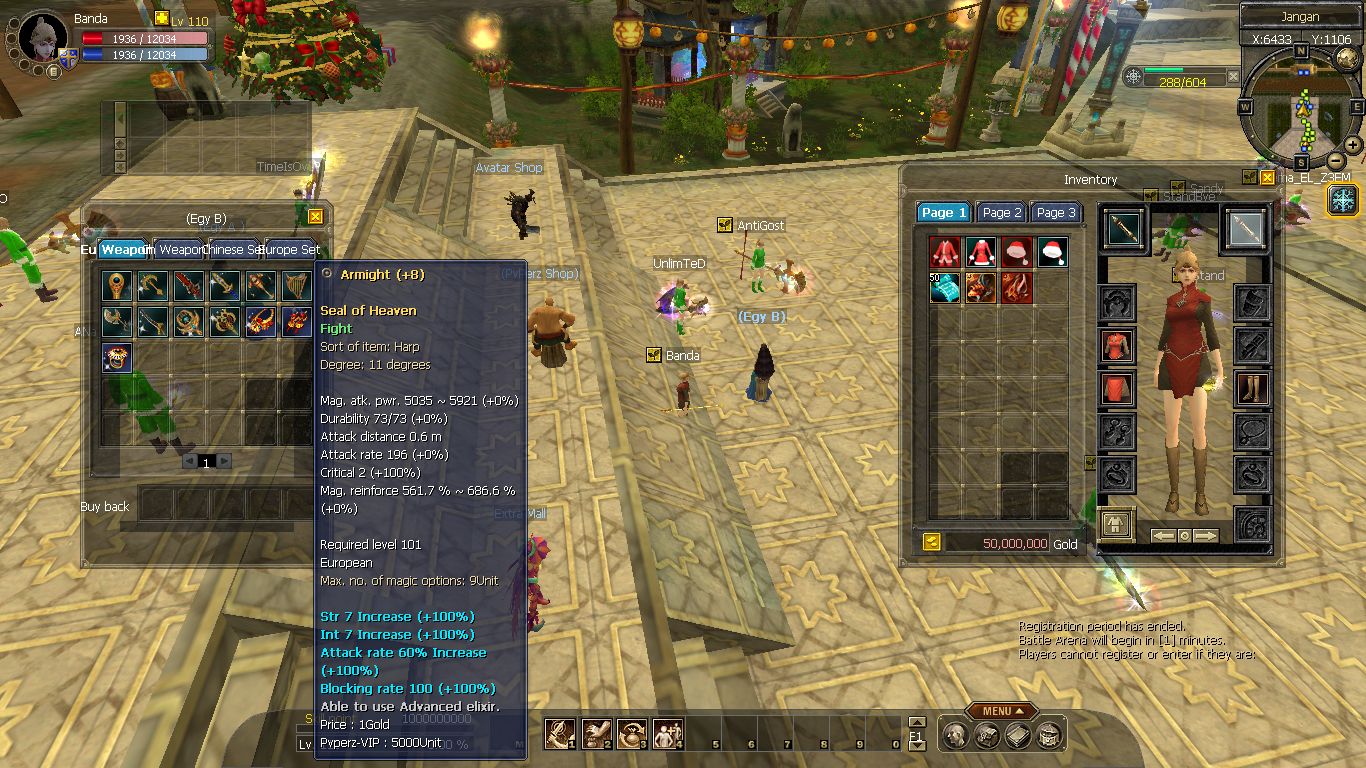 Coins From Mobs Lvl 109 in Alex 1 Mob Drop 5 Coins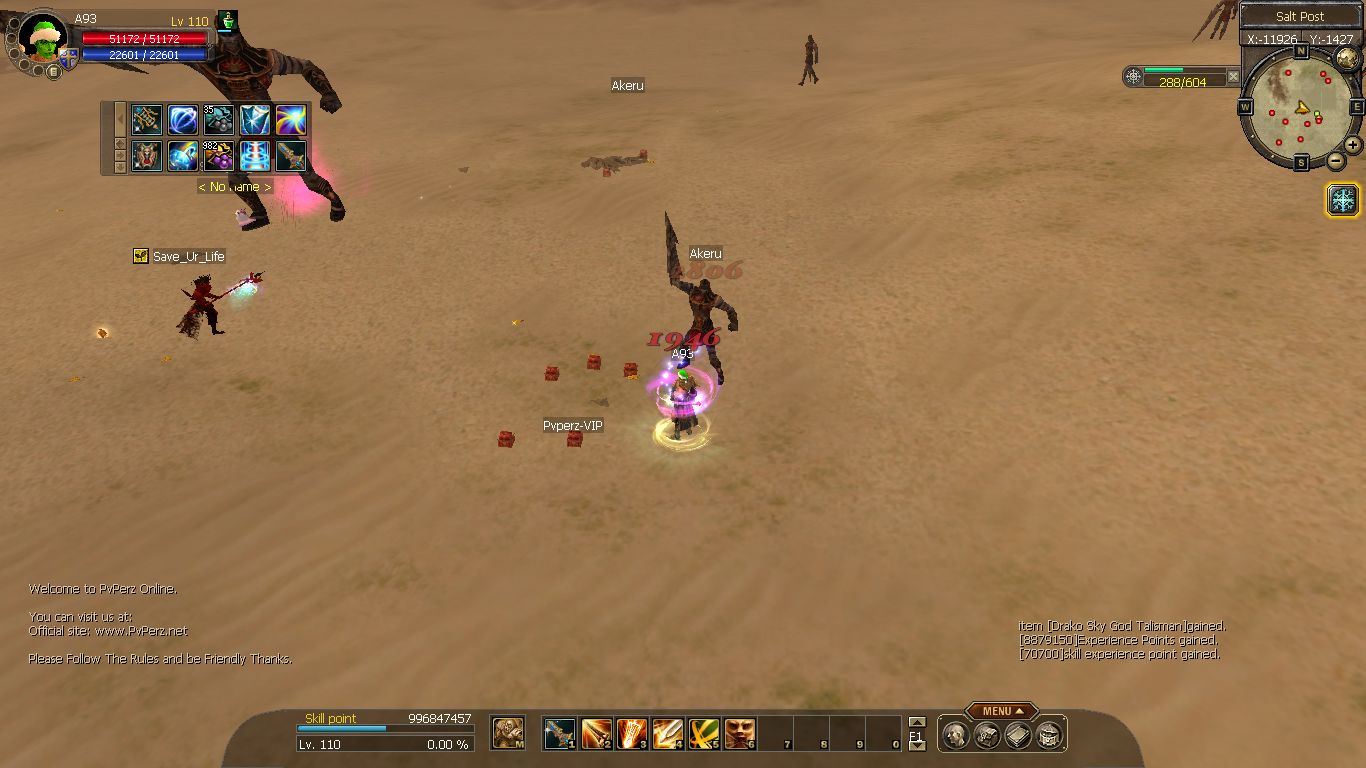 Stone 1 Gold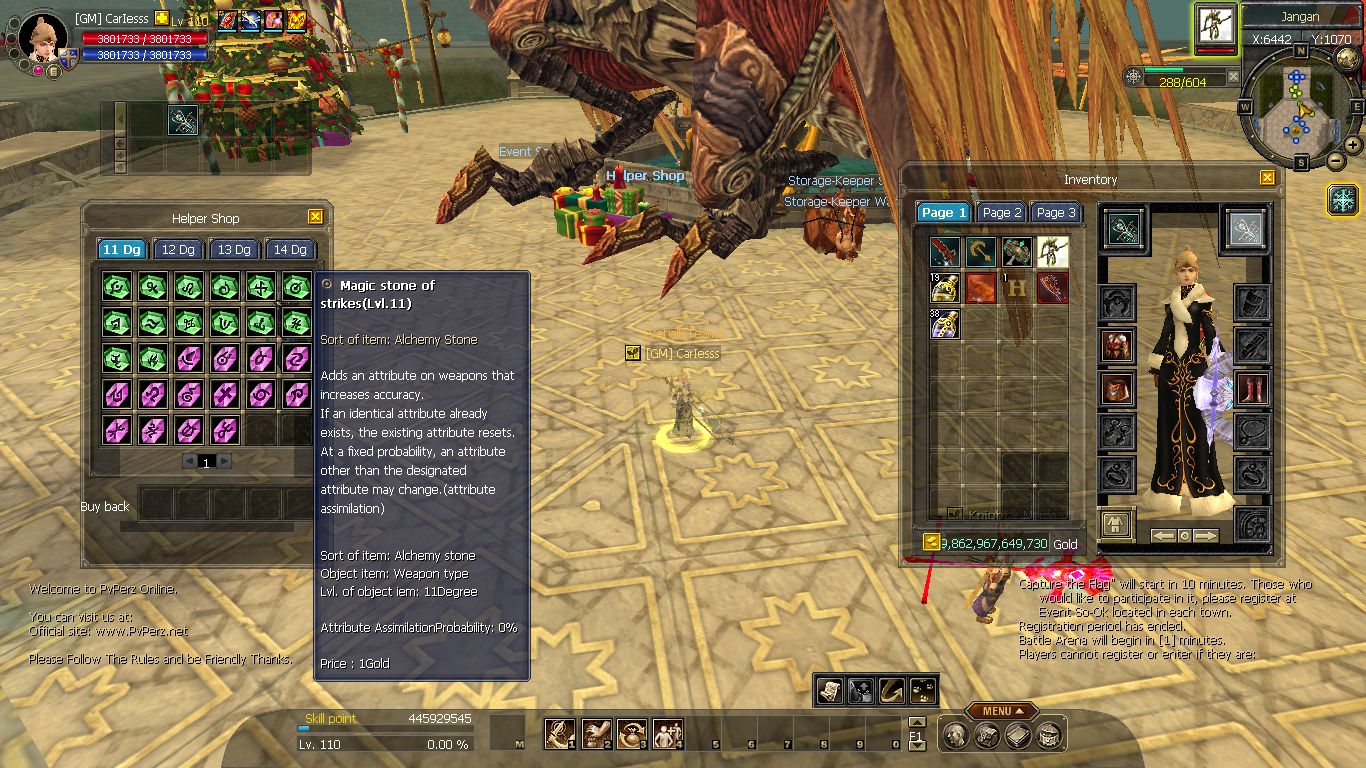 Hummer Fortress War - Scroll's - Prem 20% For Coin's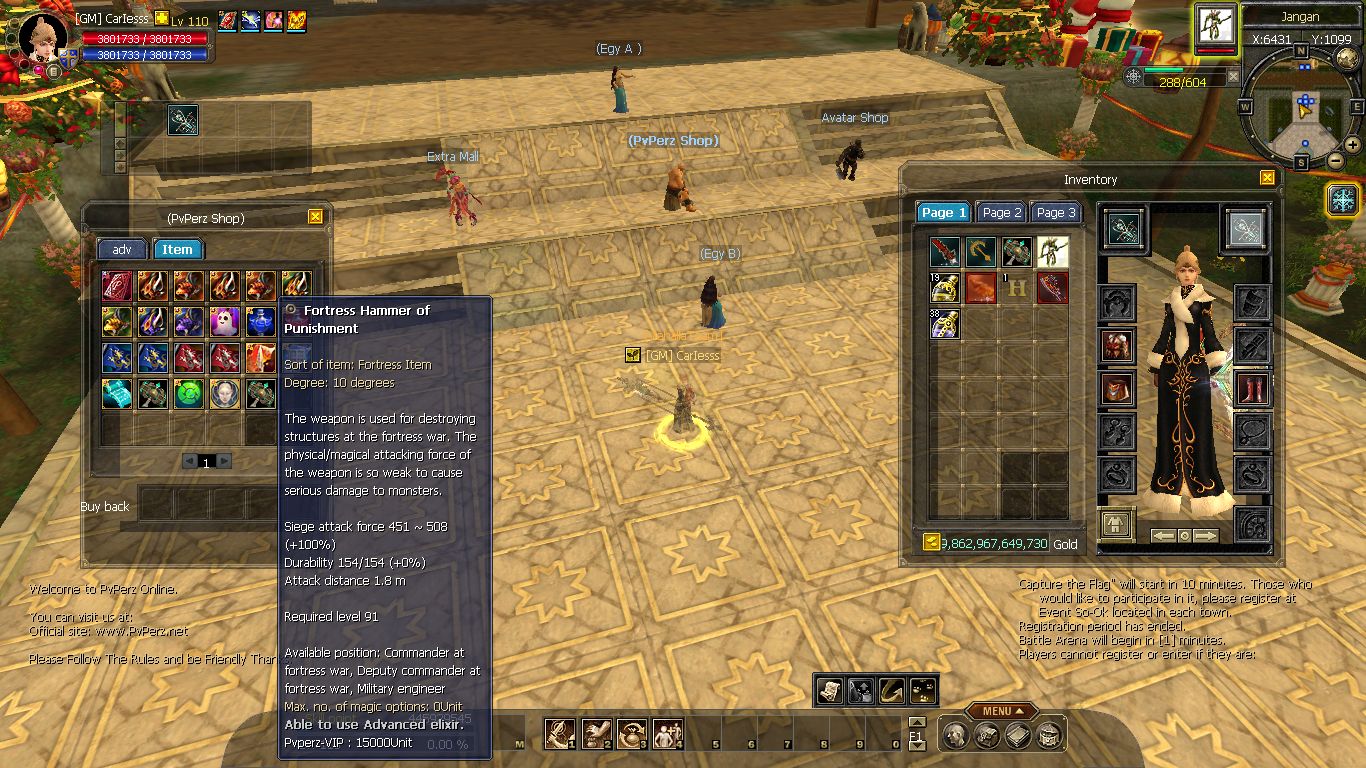 Event Lucky Crit in
Vehalla Online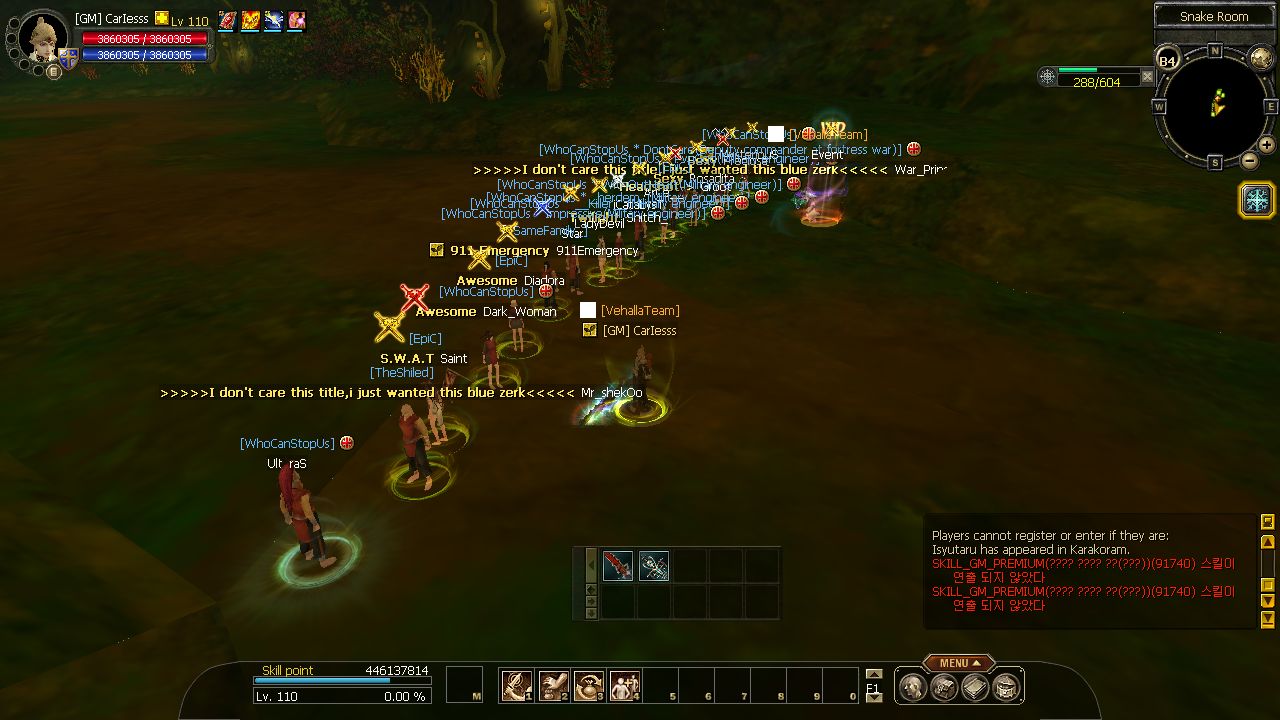 Event Pvp in
Vehalla Online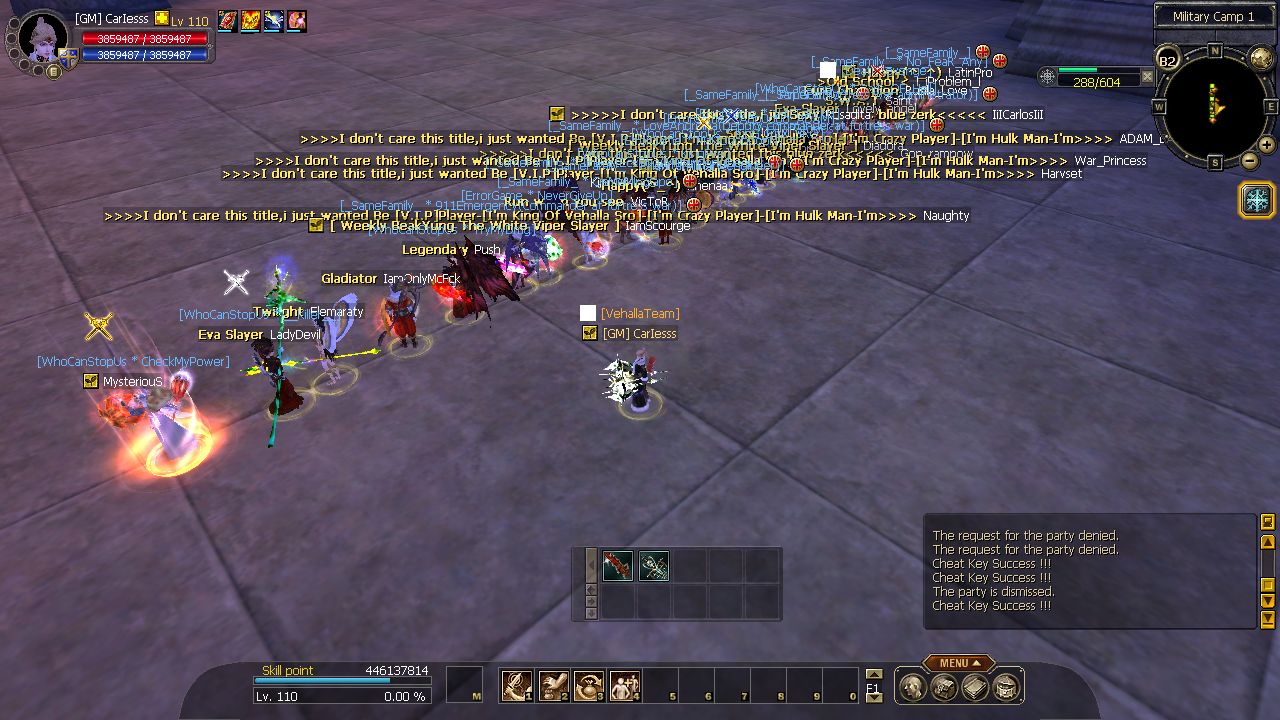 Join Us to Know More ..

Dg11
Eru/CH
Cap : 110
PVP Server
System Coin's
New Avatar's
Old Avatar's
New Pet's
New Area
New Event's
24/7 Online
Free Silk

No ALCHEMY in the Server

Egy [A] From NPC For 1 Gold ..
Egy [B] From NPC For Coin's
To Get Coins From Mobs Lvl 109 in Alex .. 1 Mob Drop 5 Coin's Easy To Get Egy [B]
Service 24/7
Title Scroll's in NPC For Coin's
Zerk Point in NPC For Coin's
HP/MP 4100 For Coin's
Hummer Fortress War in NPC For Coin's
Damage For Coin's
Devil [S] - [A] For Coin's
Prem 20% For Coin's
Lucky Magic Powder [ Devil ] For Coin's

Weekly Event's : [ PVP Event Weekly - Unique Event Weekly ]
Reward Weekly Event [ Title Name + Weapon Donate +20 ]
Unique Rank Event [ 1st - 2nd - 3rd in Unique Rank Will Win ]
Reward Unique Rank [ Weapon Donate +20 + Title Name ]

Fortress War [ Jangan Only ]
Time Fortress War : [ SunDay - Wednesday ]

Host Info
:
1GB Connection
Hosted in German
Join Us Now To Get More Fun ...
i Hope You Like Vehalla Online .

Videos