Why XEON Online?
You guys have waited for a real PLAY TO WIN System with most players game suggestions? Well! XEON Online proud to finally present itself and hope to be one of the best server's and it will be base on Cap 130 system.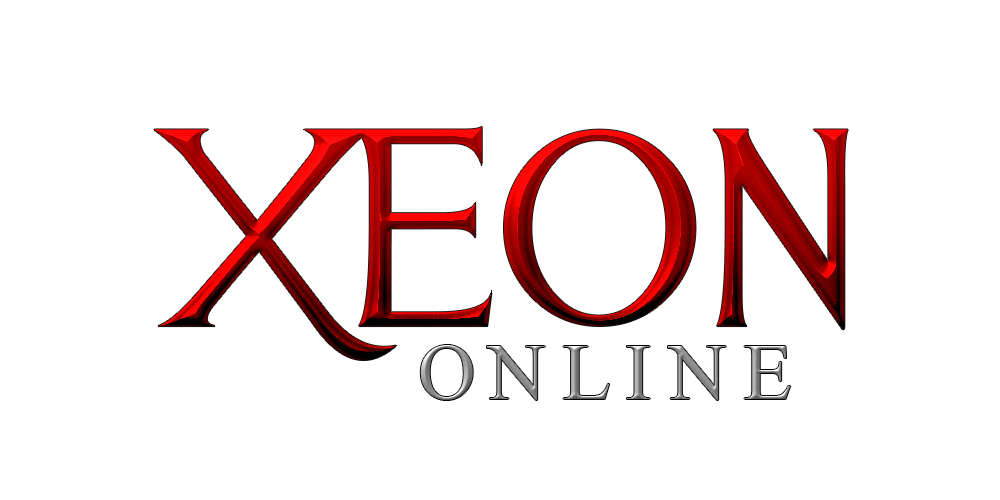 We are so proud and exciting to present XEON Online for you with all the New System's Like XEON's Job Points System.
We are a full team of experts in gaming development we consider every thought in your mind and it will be completely in XEON Online. After all we are all gamers so beware that XEON will satisfy you in the highest possible way you been asking for or even thinking about. It's will not be just a game it's will be XEON! Our Hope is putting the smile in your face by adding a History in your game-play, after 1 Year of Research about (what the players want?) we try to make 1 system for all, and XEON Online community promise all the players that we will be special, we will help you in every way we can. We will be offering one of the best cap 130 system's ever and we really expecting a good population for this server, and we hoping that our originality will get your like and support.
Grand Opening - (20th) February 2018
- The Client download links will be available on 16.2.2018 on our official website.
- We will upload a full systems guide with photos and video on 19.2.2018.
Cap
Cap will be based at 130 as we said, this means that new history by us and of course we will be putting more and more of it.
Type
PVE.
Race
Two Classes for more interesting and more fun to play game-play and don't worry about the balance because Chinese And Europe included in very balanced way.
Mastery
Chinese Mastery limit will be 390 just to be more optional, more offering and of course more insane server with a great builds. Europe Mastery limit will be 260 to give a chance for both classes to be more classified.
Available Towns
Jangan - Downhang - Hotan - Samarkand - Constantinople - Alexandria - Baghdad and we added special towns like: XEON Town: which is have some NPCs to help the players to buy Equipment Items NPC Town: which is have a special npcs like XEON Mall NPC, Pets NPC etc .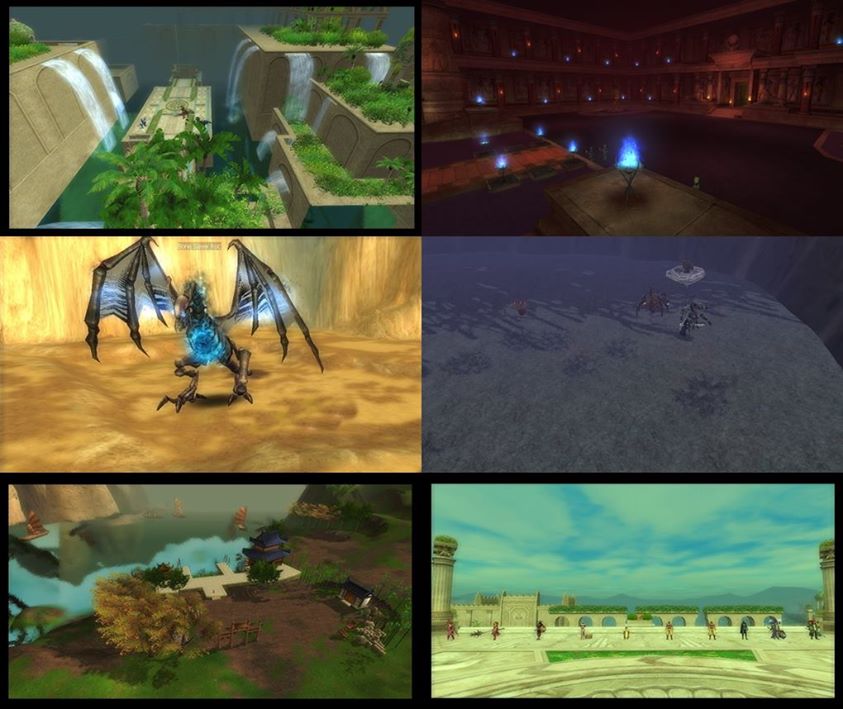 New Pets

New Avatars

Available Fortress War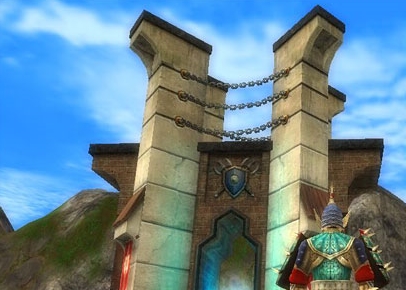 Enjoyable and Real Fun Fortress War will always depend on them. The Available Fortress War will be in Jangan - Bandit - Hotan - Constantinople.
Battle Arena
Reward from each round will be 10 Reward coin (Winners) & 1 Reward coin (Losers).
Capture The Flag
Reward from each kill will be 1 Reward coin.
Guild & Union Limits
limit's to allow 25 players per guild and 2 guilds per union.
HWID Limit
- Normal (No Limit) per pc.
- Job 2 per pc.
- CTF & BA 1 per pc.
- Fortress War 2 per pc.
Events 24/7
- Auto Events
Trivia Event
Kill The GM Event.
Hide & Seek Event.
Lucky Party Number Event.
Alchemy Event
PvP War Event
Job War Event
Lucky Critical Event
Find & Kill.
2x Gold Trade
- Team Events
PVP Weekly Tournament.
Unique Event
Lottery
Random Special Events.
EXP/SP
Rate x10 normal and 12x party.
Item Drop
Rate x20 normal and x30 party.
Gold Drop
Rate x5 normal and x8 party.
Forgotten World Talismans Drop
Rate x10 from treasure box and 2x from boss unique.
Alchemy
Rate x3 and Max plus 16 no advanced - 20 advanced.
Alchemy Plus Rate
1~5 100%
6~9 50%
10~12 30%
13~16 10%
Alchemy Stone Rate
50%
Start items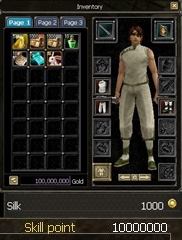 Equipment
Degree 1 ~ 12, Just go to XEON Town and you will find a great staff @NPC
(+5 - Full Blue) for low price of gold.
Degree 13, you have to use our special Awaken System
1- Find the awaken card @ Baghdad Monsters
2- buy the Souls from Awaken NPC @Xeon Town
3- Exchange the awaken cards to Stones
4- use The Awaken System from same NPC

Degree 14,
Weapons: you have to take ( sea of resentment collection ) quest and collect the cards from FGW, to join the FGW you must collect ( dimension pillar ) from Baghdad Mobs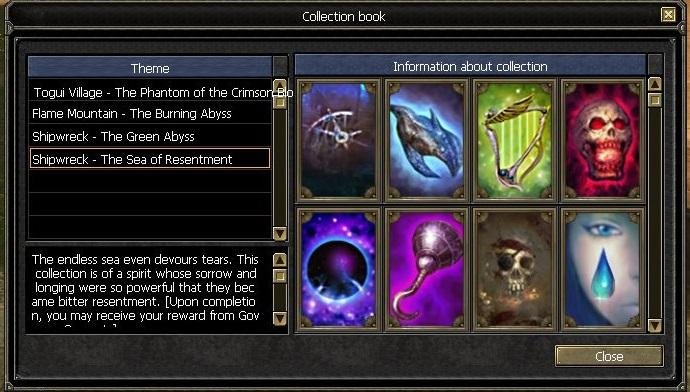 Set,Acc And Shield: you can buy it from NPC @NPC Town For Quest Coins
Quest Coins??? yes, you can get this coins from Quest Coins Quests From Daily Quests NPC @Xeon Town, or you can buy the coins for gold from NPC @NPC Area.
Leveling
Lv1 ~ 50 Just go to Flame Room from XEON Town Teleport.
Lv50 ~ 110 Just go to XEON Daily Events Area from Jangan Town New Teleport.
Lv110 ~ 130 Just go to Baghdad Town and start to fight the mobs.
Silk?
you can buy 1K Silk Scroll For Play Coins From Special Items NPC @NPC Town.
Coins System
XEON Coins:
to buy items from XEON Item Mall NPC.
HOW TO GET?
- Vote System @WebSite
- Quest @daily Quests NPC
- Job System / by exchanging the points to coins
- killing Unique
- Events
- Donate
Reward Coins:
To Buy Items From Special Item NPC .
( immortal, Lucky, Steady stones D14 - Weapon Skin - Weapon Exchange Scrolls, etc )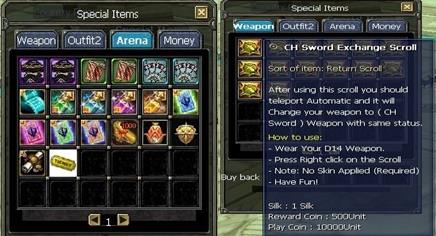 HOW TO GET?
- CTF
- Battle Arena
- Job System / by exchanging the points to coins
- killing Unique
- Events
Play Coins:
To Buy Special Items .
( Special Avatars - Degree 14 Stones - Zerk Scrolls, etc )

HOW TO GET?
- Baghdad Mobs (DROP)
XEON Online Special Job Point Rewards System !

The New Job system is a new system made by XEON Online.
Rewards:
Trade 1* > 1 Job Points + 1B Gold
Trade 2* > 1 Job Points + 2B Gold
Trade 3* > 2 Job Points + 3B Gold
Trade 4* > 2 Job Points + 4B Gold
Trade 5* > 3 Job Points + 5B Gold
- You Can Exchange Your Job Points To Reward By PM $System.
25 Job Points > 1 Immortal Stone D14.
30 Job Points > 100 Reward Coin.
31 Job Points > 100 Donate Coin.
100 Job Points > 50 Reverse Return Scroll.
120 Job Points > 50 Global Chatting.
280 Job Points > VIP Premium.
300 Job Points > 1K XEON Coin.
- You Can Check Your Points Anytime by $System
- $System is an Automatic Helper Bot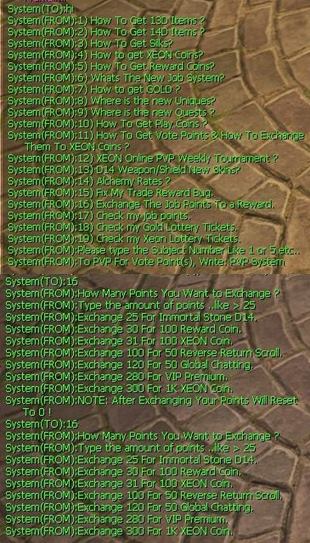 XEON Online Special New Unique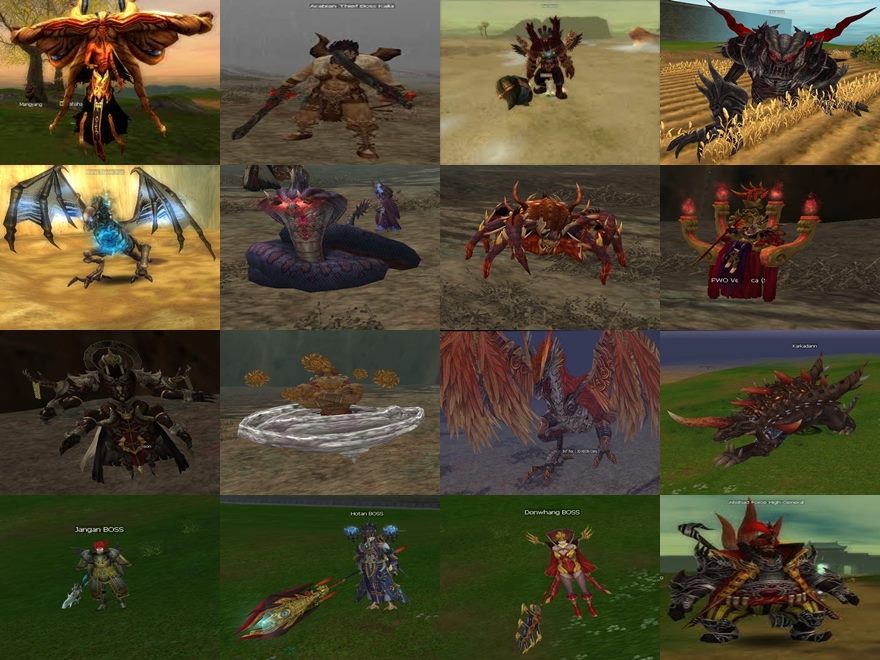 Titles System
Level 1 Titles ( 50% Damage Increase )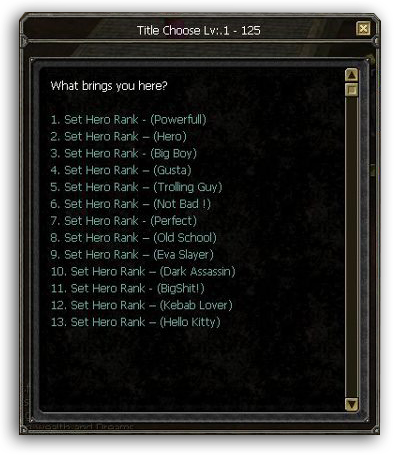 Level 2 Titles ( 75% Damage Increase )

Level 3 Titles ( 100% Damage Increase )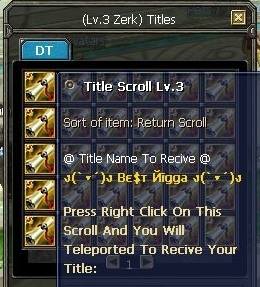 Academy / Honor Buffs
- Academy is disabled.
- You can buy it for Reward & Play Coins From Special Items NPC.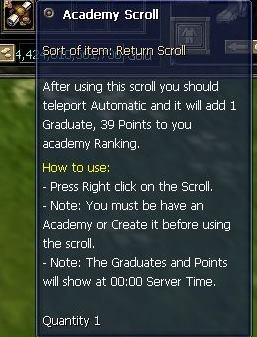 XEON Online Additional PVP For Vote Points System
This is a new system which can help you to PVP anyone for Vote Point(s).
You will PM System with like this shape
' PVP:OpponentCharname:PointsAmount'
For Example: I want PVP Volcano for 20 Vote Points,
so it will be ' PVP:Volcano:20 '.
the BOT will tell your opponent about your PVP request.
( To Accept PM System with ' Req:Yes ' to Refuse ' Req:No '
If your opponent accepted the PVP Request, he will tell you then you accepted.
Then, the BOT will recall you Both to PVP.
The Winner will take 2x the amount of Vote Points, The Winner will take (40) Points. You can PVP anytime, so good luck and have fun !
- Vote Points Coming From Voting via Website and you can buy XEON Coins for Vote Points.
XEON Online Weekly Tournament System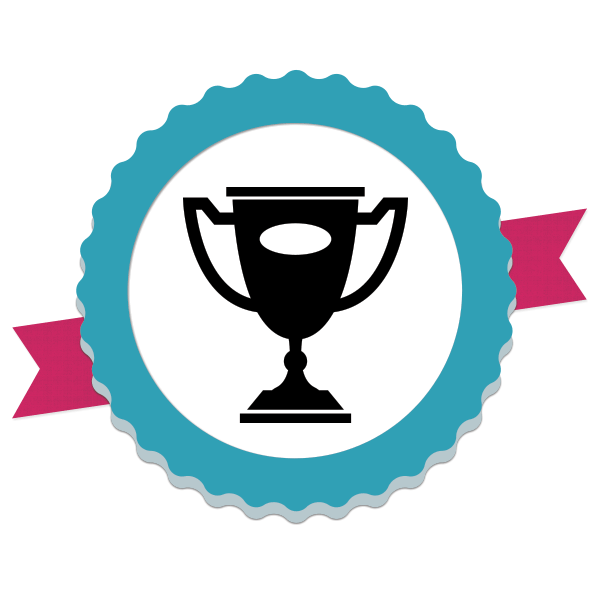 ( Reward: XEON Coins + Title with Logon and Logoff Notice)
- Best Unique Killer ( depends on unique Killing record system )
- Best Donator ( depends on weekly donate amount )
PVP ( Reward: XEON Coins + Title with Logon and Logoff Notice)
- Best STR
- Best INT
- Best CH
- Best EU
( depends on weekly manual PVP event )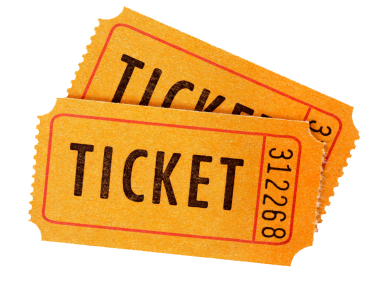 Lottery (Reward: 2x Tickets Prices) (3 Winners for each Lottery)
- Gold Lottery ( Depends on how many Ticket scrolls did you buy )
- XEON Lottery ( Depends on how many Ticket scrolls did you buy )
and you can check your used tickets anytime from $System
XEON Online Official Links
Make sure that this links below is the only official links for XEON Online, if anyone send you any other links we are not responsible on it and I hope you watch out since there is much scamming sites and we can't really help in this cases so please don't use any other links that we didn't mention bellow and thank you for trusting us.


L

ink

s:
Homepage: Link
Download: - Link
Register - Link
Facebook Page: Link
Facebook Group : Link
Forum: Link
YouTube: Link