Hello , We invite you to join our project

Elyos Online




Elyos Online

is a summary of our experience due to our team efforts at this field .
Elyos Online

has made a difficult equation in trades . Trade is the main goal of Silkroad Online , and many servers failed to achieve that , even Silkroad Online itself .


Elyos Online

is a fully protected anti DDOS attacks and Exploits from massive companies like Hyper filter with a lag-less dedicated
server with high rate capabilities 24/7/365 supported !
Thanks for give us a try and join our community .
The server online Since February 4th 2015
Degree: 10
EXP: 999x
EXP Party : 999x
Drops :10x
Race: CHN & EU
Mastery : European 200 / Chinese 330
Fortress war :Jangan
Honor Buffs : Enabled
CTF: Enabled
Magic Pop: Enabled
Alchemy: 1.2x
Advanced Elixir: Enabled
Server Features
start items
• 10m Gold
• Instant 100
• 10m SP
• 10x speed scrolls
• 1000x HP
• 1000x MP
you can find all what u need at Start items npc like ( Moon weapons , protector items and accessories ) for 1 gold



Item stack limit:


• Potions: 1000x
• Arrows/bolts: 2500x
• Stones 100x
• Elixirs: 1000x
• Arena coins 1000x
• CTF Coins 10000x
• Elyos coins 1000x
• Bronz coins 1000x
- New Arabian uniques
- Change name scroll
- Npc scroll ( potions , Blacksmith , storage and guild manger ) target a monster or a player and right click on that scroll , you can create a npc any where you want
- Welcome Notice
- Delay for exchange and stall ( 2 minutes )
- Cant make exchange under PVP mode !
- Deleted skills
Warrior :


Pain Quota - Physical Fence - Magical Fence - Magical Screen - Physical Screen - Ultimate Screen


Bard :
Guard Tambour - Mana Tambour - Hit March - Clout March
Dancing Of Valor - Dancing Of Magic - Dancing Of Healing
Dancing Of Mana - Dancing Of Fight - Dancing Of Wizardy
Dancing Of Vitality - Dancing Of Mentality .
Cleric :
Force Blessing - Mental Blessing - Force Deity - Mental Deity .
Elyos Online

depending on 2 things Job running and Events ( CTF or Auto Events )
Job Running is the main point of silkroad depending on , so many server ignore that at their system .
buy running a trade you will buy it for a gold and deliver it back for a gold so there is no way to make any cheat ( when thief robber a trade he got less than 50% of it's profit ) you can run a trade as you can no limits but you need every cent you will spend at

Elyos Online

with gold that you will gain from trading you can buy Bronze coin for 1 billion gold each and then you can buy the most powerful weapon at the

Elyos Online

Sun weapons for that Bronze coins , Also Bronze coins drops from Death Bone
CTF ( Capture the flag ) it the 2nd thing that we depending , have fun as u can at CTF and gain CTF Coins and with that kind of coins u can buy any thing at the game like avatars , global chatting , scrolls premium and so much other items and you can trade CTF coins for arena coins which that can buy some rare items

Elyos Online

has it's own coins Elyos coins with that coins you can buy Honor buffs (28 days) scroll and you cangain that coins from hunting Medusa ( Beak Yung The White Viper ) each kill will get from her a 20 of Elyos coins
•

Auto Events

:

Elyos Online

has a fully worked 8 Automatic Events
1-

Trivia

:

[Bot-System]

will as a question in a global chatting , If any player answered that question he will send him a pm that he won that Trivia round and write a global that [player name] won that Trivia round
2-

Hide and seek Event

: The famous hide and seek event ,

[Bot-System]

will hide at somewhere of most that 350 places around all over the world map and give say where it's if no one find him in 5 minutes he will say a hint when some one find

[Bot-System]

he have to send an exchange request to the bot and he will be the winner .
3-

Kill GM Event

:

[Bot-System]

will spawn at a certain place and wear a cap when after he write that the event in a global catting and notice , at this event will be 3 rounds If u killed him 2 of 3 times will be a winner .
4-

Lucky party number event (LPN)

:

[Bot-System]

will say in notice a party number who will reach that number will be a winner .
5-

Unique Hunting Event

:

[Bot-System]

will spawn a certain number of uniques at certain place and between round it will spawn zerk uniques , who got the most kills he will be a winner .
6-

Last Man Standing Event

: in that event

[Bot-System]

will make a notice that registration time will begin in a few minutes when the registration start it will say a notice that if any one wanna to participate that event send a PM o

[Bot-System]

: LMS Register , when he receive that PM he write a message that numbers of participating in that event increased by 1 (1/50 for example) then when that event start

[Bot-System]

will recall every one had participated in that event to an area and all can attack each other , The Last Man stands to the last shall win that event .
7-

Alchemy Event

:

[Bot-System]

will drop certain amount of items and will say who will get plus +5 ( for example ) will be the winner .
8-

PVP Event

: Just wear a cap out of Donwhag south gate when you kill some one wear a cap you will get a point when some one reach the target of that event let's say 50 points he shall be the winner ( dun worry cant cheat if you attacked some one 3 times you won't get any points of him any more , also points dose not count far from the area that

[Bot-System]

locate .
More events will be add in a few weeks .
Q & A
Q: How to get a Seal Of sun Weapon ?
A: You can buy a Seal of Sun Weapon from a npc at DonwHang for Bronze Coins , also Bronze coins can be bought from Mixed [Old / New ] Npc for 1 billion gold each

Q: How to get gold ?
A: The only way to get gold is to run a trade or steal it if you're a thief with custom gold rates , botting is COMPLETELY not allowed !!

Q: How to get Honor buffs ?
A: Honor buffs can be bought from Mixed [Old / New ] npc for Elyos coins

Q: How to get Elyos Coins ?
A: Elyos coins can be gained only from Beak Yung The White Viper [ Medusa ] drops 20 Elyos coins per kill

Q: How to get CTF Coins ?
A: CTF coins can be gained from Capture The Flag Event

Q: How to get Arena Coins
A: Arena coins can be gained from Events ( Auto or manual ) or drop Uniques .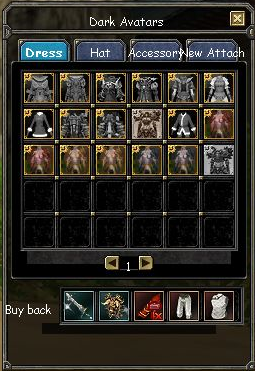 Videos
Links:
Homepage: Link
Download: - Link
Register - Link
Facebook Page: Link
Facebook Group : Link
YouTube
: Link
Forum: Link