A little Story about the End of the World...
Thousands of years ago, a dragon told the future of our world: At 21.12.2012, a worldwide catastrophy will nearly destroy our world. Mankind is broken and the gods will see, that the few people which survived, cannot live without help anymore. So the gods will send back the magic to earth, that has been taken for a sooo long time - to help the humans. But magic will not just effect humanity. Birds become blood-thirsty griffins of prey, dragons awake again, wolves grow to beasts, until every creature is a paranormal shadow of itself... The Beginning of the 6th World!
Links:
Home:
http://www.the6thworld.de
Forum:
Cannot link it here. You will find the link on out website.
TeamSpeak:
http://188.138.89.117/teamspeak.php
Download:
http://188.138.89.117/download.php
Facebook:
http://www.facebook.com/The6thworld
CHANGELOG UPDATE:
A lot of things have changed on this server, since the last advertisement here. So now I am going to post
what is new
(and better ).
Lets start with what I think is the most interesting update:
Arabia
! It includes the town '
Baghdad
', the free areas '
Kirk
' and '
Phantom Desert
' and the dungeon '
Khalias Hideout
'. In the free areas you find
monsters level 121 to level 125
(autospawn and autoattack!). Mobs level 124 and 125 drop
Degree 13 Armor
. Degree 13 weapons are still available as reward of the full collection book (forgotten world) only. Comming along with lvl 125 monsters, the
player level cap
has also been
increased to 125
.
In Phantom Desert spawns a powerful unique '
Giant Overlord
' and his Guard '
Abshad Force Royal Officer
'. They are very strong, so don't go for them soloing.
Also the Unique
'Abshad Force High General
', which lives in his stone labyrinth in Kirk.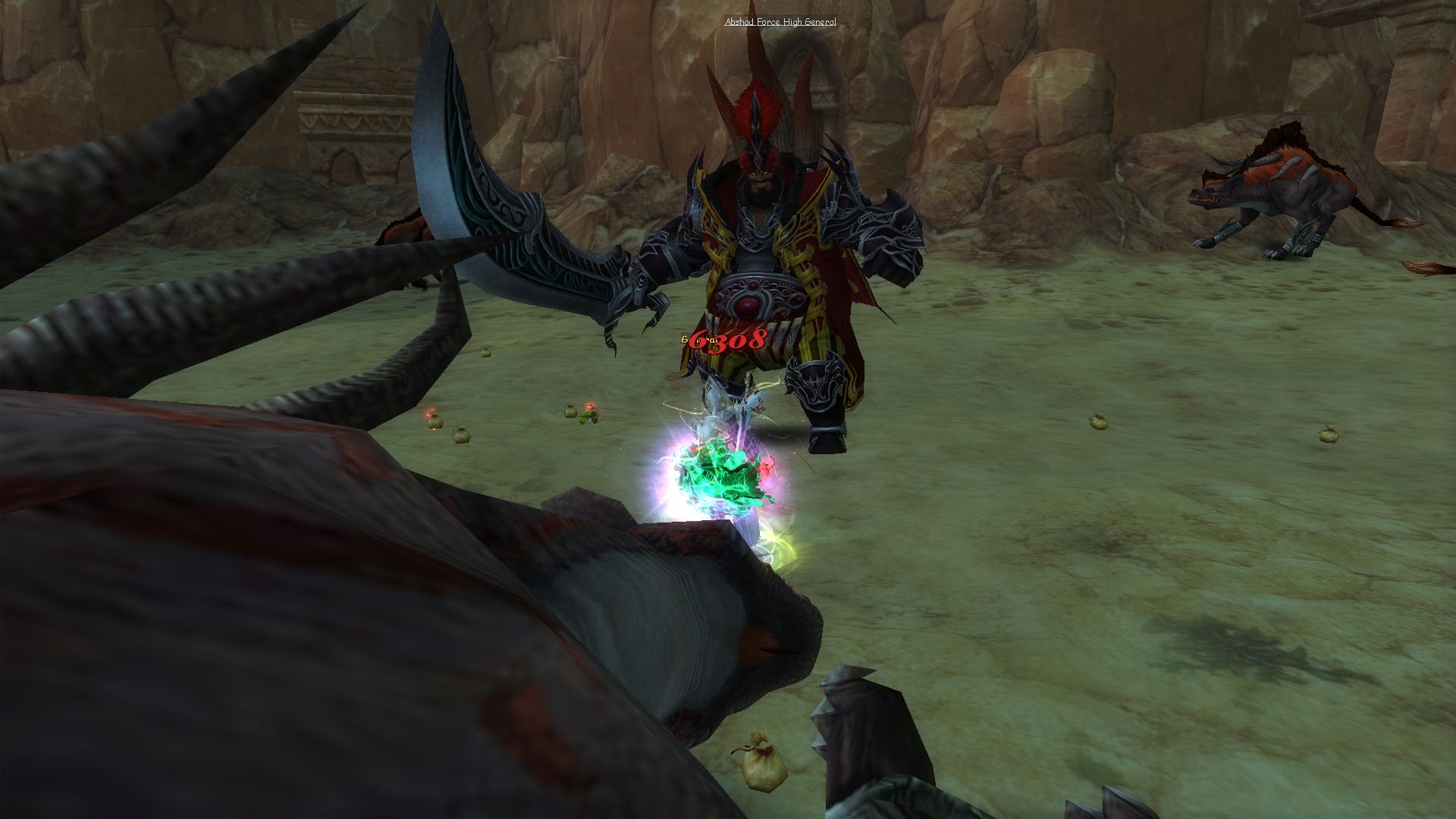 Sure there is also another unique in Khalias Hideout. A
female badass warrior
, whos name is
Khalia
. Bet you didn't guess that.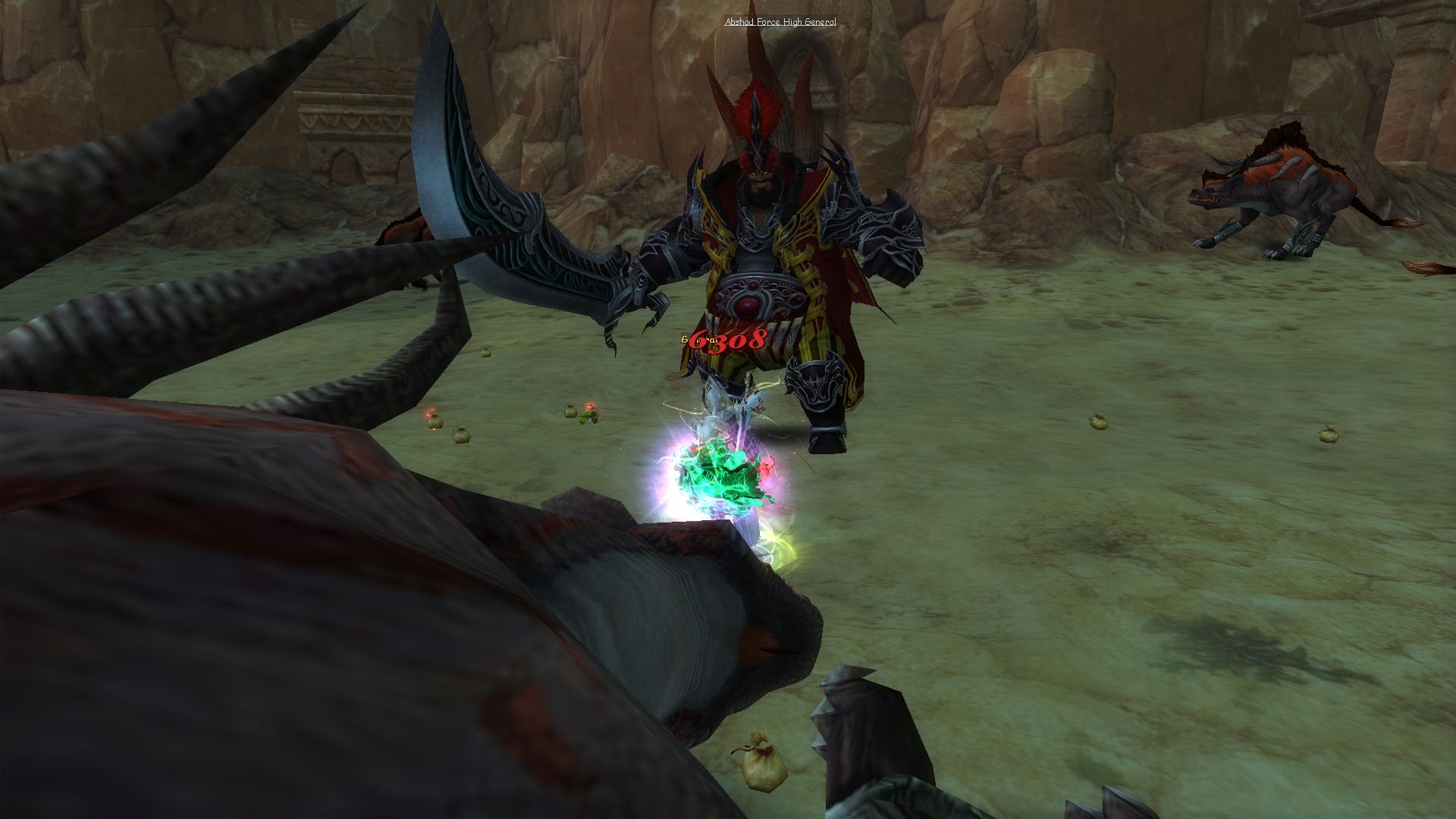 So much about Arabia. Next interesting updates are about your comfort. First, we added a
teleport function
on our website. When you your character is offline, you can teleport your character to Jangan. It made for, if you are stucked or bugged somewhere. (Please not, that you can
change the language of the whole website into english
! There is a button in the upper left corner. We are not a german-only server.)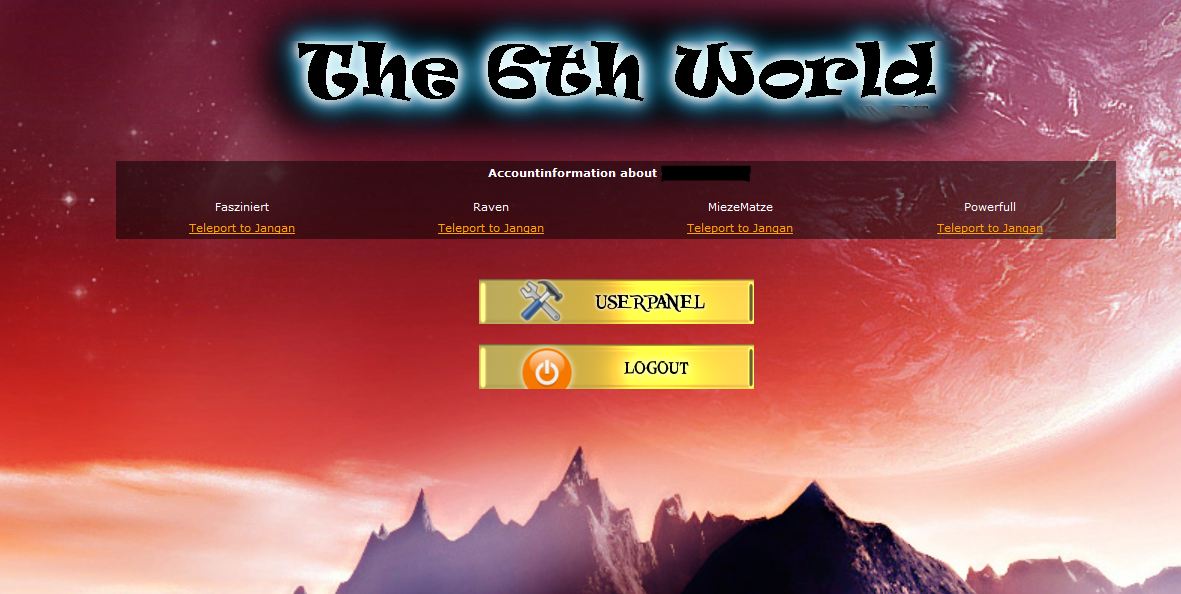 As you can see in the image above, there is also a working
vote for coins
option. When you vote regularly, you receive enough coins for several things you need every month. Like devil spirit extension, pet clock and premium.
The first character you create on our server will get
5000 6thworld-coins
. In Jangan and Constantinople wait the
Geany
for you, selling you silk items for these coins. So you get
free Silk items
here.
Normaly, silkroad is a frustrating game, when it is about upgrading equipment. Not in The6thWorld! Premium ticket gives you a
real advantage of 30% luck
. Realy working, not just displayed! And don't forget you get free premium, using the 6thWorld-coins. Here an example of what could be yours, soon.
Members of The6thWorld
server staff can now easily be identified
by this symbol above theire heads.
Because of the higher luck many players have high + weapons, so we
edited the glows and added new ones
above +11. Difficult to display it in an image, so login on our server and check it out.
Some time ago, 2 uniques were added to the open areas -
Harlequin
and
Dryade
(both lvl 120). If you want to find out, where they can be found, check out our forum. A link is listed below.
A lot more things have been changed. To much to list it all here. Just some more facts, that could be interesting:
pay-ment-wall method added. (Offers paysafecard and many more)
Botting is allowed
Change password option
New Events like 'Kill the Supporter'
Server-Rates:
EXP:
100 x
SP:
100 x
Party-EXP:
110 x
Party-SP:
110 x
Drop:
50 x
SoX-Drop:
30 x
Golddrop:
30 x
Server-Info:
Race:
Chinese and Europe
Level-Cap:
125
Skill-Cap:
120
Equipment:
Degree 13
Instances:
Medusa:
working
Roc:
working
Forgotten World:
working
Mirror Dimension:
working
Jupiter Temple:
working
Job Cave:
working
Holy Water Temple:
working
Khalias Hideout:
working
Arabia:
working
Other Features:
Capture the Flag:
working
Magic Pop:
working (also Degree 12)
Autopotion:
working
Stall consignment:
working (also Degree 12)
Stall-Cap:
500 B gold (prevent Scam)
Fortress:
Jangan-Fortress:
working
Bandit-Fortress:
working
Hotan-Fortress:
working
Startup-Settings:
je 10 x 20% damage incr. und absorb. Scrolls
10 x Pegasus (Reitpet)
5000 6th World Coins (Können demnächst verwendet werden)
5 x Drug of Typhoon
5 x 100% ressurection Scrolls
1 x Sammelpet für 28 Tage mit 5 Inventarseiten
500 000 Skillpunkte
10 Millionen Gold
The 6th World - Team:
We are a team of lovely silkroad-player which are doing this server as a hobby. We like to meet other people that enjoy the gameplay and a friendly community.
[GM] Trudie
[GM] Chemicer
[GM] Painwrecker
[GM] Yoda
[Supporter] IronMan
[Supporter] Tagoluna
Hardware-Info:
dedicated server
500 slots atm
16 GB DDR3 RAM
4 core AMD ~2,3 GHZ
WHAT IS SPECIAL?:
The Uniques Jupiter, Juno and Earth drop berzerker-pills.
In The 6th World there are 4 different Event-Zones. As you can see, it is also possible to teleport to mirror dimension from every city.

In these Zones are spawning highlevel uniques like Kidemonas, Jupiter, Earth, Juno, Babilion and Baal. This is also where our GM's celebrate Event-Parties with you.


There is a Special Event-Zone, which can be reached from Alexandria only. In it, you can find some special Uniques.


Sure every Zone also has a teleporter. So you don't need to be worried about getting back to normal map.
This is our PvP-Zone.

You can buy SUN +5/7 Equipment at NPC (Degree 1 to 9). So it is easy to grind and collect a good set in Alexandria when you reach level 95.

[*]When the
collection-book
(forgotten world) is completed, the reward is a Degree 12 SUN weapon (lvl 120) with the skin of
Degree 13
. We made this, so you can still use Degree 12 Stones and so on.
[*]All 4 hours spawn
Titan-Uniques
at all spawnpoints of normal uniques. When you need a Unique for leveling yourself, a friend or something else, there will always be some Unique.
[*]Key of Bloodline and Sabakun´s-Jewel (ROC) are available in Item Mall (resell-able)
[*]Several fellow-pets working.
NEWS:
Another new Event-Zone added. It is made for Newbies, reachable from Jangan an Constantinople only.
Server-Security is increased now.
Userlogin where you can change your password added on the website. It is ugly, but it works. We will take care about the design later.
Two new fellow pets: Dino and Bear.
There are several more things to find in The 6th World. Give it a try and explore for yourself.