The team here at
Prime
Online strive for balance and fun for our players. We want to encourage players to focus on all of our features and that is how we have designed our server. Our main goal is to create a community of players, a place where interaction takes place in game and in the forums and gallery. We want you to have as much fun as possible, and not worry about all the common problems we see around this community.

Constantly Growing
Over

1500

Accounts!
Over

1200

Characters!
Website Features
Combined Game & Website Accounts
Dynamic homepage with news, top pictures, and recent video's
Complete forums with news, information and support
Frequently asked questions
Dynamic game guides written by staff & players
Dynamic gallery where staff can upload screenshots
Fully automated donation & game item delivery
Point rewards for posting & replying
Fully automatic voting system with point rewards
Live player ranking statistics and character & guild view
Live player online information
Server Rates & Limits
Level: 80
Degree: 8D
Mastery: 300
Experience: 4x vSRO
Party: 4.5x vSRO
Item: 5x vSRO
Gold: 2x vSRO
Trade: 25x (Custom)
IP Limit: 3
Alchemy Rates
Elixir rates
(%)
Magic powder rates
(%)
Starting Items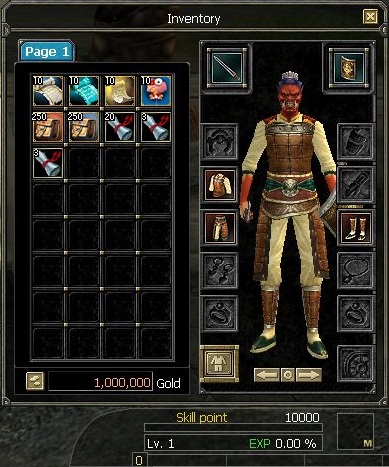 Game play Changes
Cooldown on Global chat - 5 minutes
Cooldown on Reverse & Res scroll - 5 minutes
Grass walk speed - increased to 55% ~ 110 %
Snow shield novice - changed to 4% ~ 25% absorb
Snow shield adept / freeze / intensify - now require 168 / 240 / 320 int
Purification pill - fixed 20 second cool down (mbot bug)
Pots - stack to 250
Arrows - stack to 1000
Stones & elixers - stack to 50 /100
Removed - Magic Pop, Consignment, devil spirit, Euro items / towns
New job suites with alchemy bonus
Level 70 / 80 horses & transports added
Guild leave cool down - 1 day
Job leave cool down - 2 days
increased unique spawn times
Hotan fortress tax added to jg & dw
List of Game Features
Capture the Flag - Every day
Battle Arena - Job Only
Fortress war - Saturdays with custom rewards
Forgotten world - Togui village & Flame mountain
Top job buffs - Top 10 get honor buffs (under construction)
Unique Coins - Dropped from most uniques
Battle Coins - Collected from pvp (fortress, ctf & arena)
Job Coins - Collected from trading & temple uniques
Job Temple - Hunters, Traders and Thiefs only.
Underground Tomb - level 76-80 monsters and uniques
Underground Cave - dw cave moved to hotan area
Original uniques - TG, Uru, Isy, Lord Yarkan
New Uniques - Jupiter, Yuno, Medusa, Baal, Babilion, Seth
Event Uniques - White Knight, Princess & Underground Creatures
Rare weapons and equipment in hotan npc's
Item mall / silk replaced with premium npc & coins
Please check out our
FAQ
&
Game Guides
for more information
Player Screenshots
You can see more
Player Screenshots here!
This topic is just a quick preview of what we have to offer, more information is available on our website in our forums, faq and guides. If you have any questions, comments, suggestions or complaints we encourage you to register and post in our support categories here:
Website / Server / Language Support
Important Links